Can.CH.  TR Sparklin' Spirit Abigail

(Abby)

We are so very proud to introduce our first dalmatian champion out of our breeding program.  Out of Ali's first litter and the only offspring we have from our foundation sire, Kale (see below) she has much to add to our program, with excellent conformation and a sweet loving temperament.  Abby has produced some top quality pups, and her last litter arrived March 29, 2015.

Abby has now been placed in her forever retirement home with Jacky and Don.  Thank you for opening your home and hearts to this very special girl.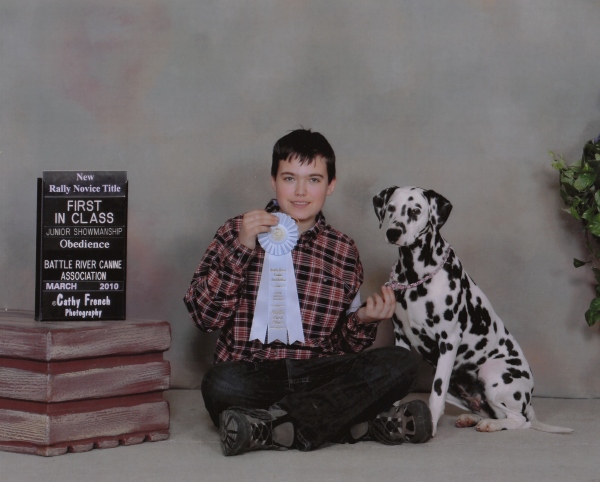 Spots On The Top Alison, RN

(Ali)

  Ali was imported from Romania and carries the world reknowned lines of Olbero Kennel through her grandsire Olbero Olympic Playa an own son of Doctor Fox by Salsusa.

Ali and and our son Coltan have completed one year in Canine 4H and then felt ready to enter the CKC Rally Ring. Ali qualified each and every time she entered the ring, therefore finishing her Rally Novice Title quickly in just 3 shows. They then went on to compete in Junior Obedience and placed 1st in their class.  Ali produced us 3 wonderful litters and is now retired from our program. Below are some fun pics of Ali and Coltan.

Ali has now been placed in her forever retirement home with Kristen.  Thank you for opening your home and hearts to our wonderful foundation girl.

Ali and Coltan competing in Rally Obedience

TAYLOR RANCH KENNELS PERM. REG'D

PRESENTS

Our Past Dalmatians

Bart was shown to his American championship as a youngster and earned the title of  Best Junior in Futurity 2005 Centenniel DCA National.

Bart has been placed with a wonderful loving family and now if fully retired from our breeding program. The pups he has produced  have been outstanding in temperament and quality. 

Am. CH. Guardian Brave And Noble

(Bart)

RIP 2004-2016

The Dalmatians on this page were owned and/or bred by Taylor Ranch Kennels and played an important part in developing our program.

Although, we would love to keep them all, it is unrealistic as we must have room for the up and coming generations. So we took our time and found the perfect retirement homes for each of these wonderful dals.

Thank you to the great families that have opened their homes to our amazing retirees.

TR Mister Kale of Muddy Pawz

2004-2011

Sire to our championed girl Abby, Kale was our foundation boy.

We miss him each and every day.

.........Rest peacefully my friend.

TR Queen Of The Nile

(Bailey)

This beautiful liver girl is a daughter of our American Chanpion, Bart and out of our Canadian Champion girl, Abby (both pictures above).  She was bred twice to Kruize and we are very impressed with the quality of pups she produced.    Bailey is now retired from our program and lives with Ross and Toni-Lynne who spoil and love her.

Lacrima Christi Canadian Kruize At TR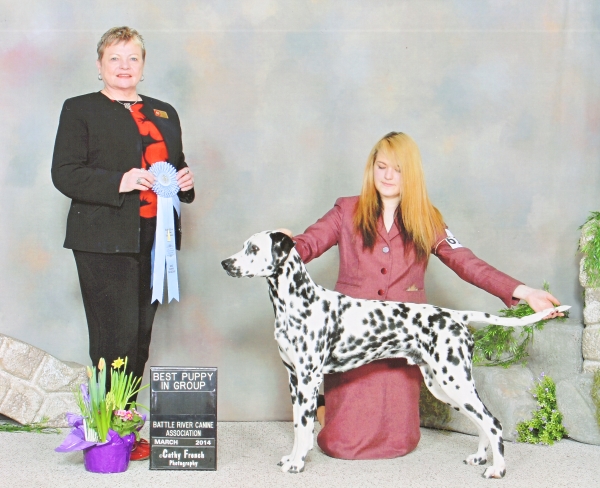 We are so excited to welcome this fabulous boy who joined our family all the way from Croatia.  Our sincerest thanks to Anita Radic of Lacrima Christi Kennels for allowing Kruize to make the long journey to Canada.  Sired by International & Multi. CH. O'Zone Ilmarinen (Finnish, Estonian, Latvian, Lithuanian, Baltic, Slovenian and Croatian CHs) and out of International & HR CH. Deep Memory Panthera Unica (Croatian Club Winner 2011 & BISS).  We have waited over 4 years to obtain a dal from this world reknowned kennel and are so very happy to have a grandson of the legendary World, Euro, Multi. BIS & CH Lacrima Chrisit Coppola grace our home. 

Kruize attended 3 show weekends by one year of age, and obtained 2 Puppy Group placements.  Kruize is exactly what we were striving for in a show dog, with perfect conformation, gorgeous head, and flowing correct movement we couldn't be more pleased.  Unfortunately, Kruize has decided he does not like to show, so we are not forcing it upon him. He is sitting on 6 points towards his Canadian Championship.

Kruize has been placed into his forever retirement home.

We thank him for the wonderful pups he has produced over the years.