Taylor Ranch Kennels Presents

Our Dals Achievements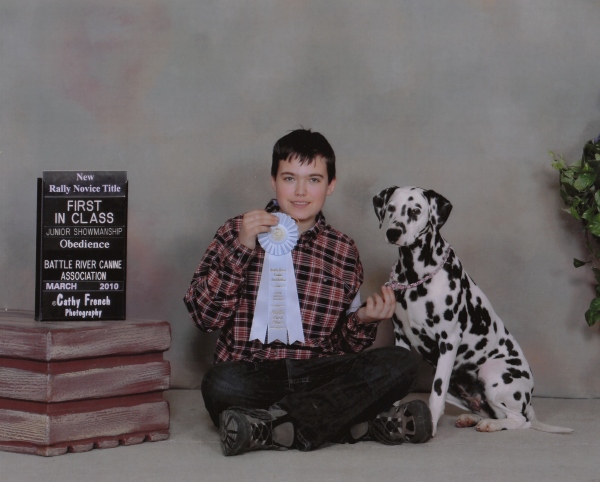 On this page you will find updates on achievements that our dalmatians have accomplished.  These achievements can be from the show or obedience ring, to certificates to appearing in movies, etc.  All dals on this page are either owned by Taylor Ranch, or were bred by us.  We want to express how proud we are of not only our dals achievements, but of the owners who love them and put the time and effort into raising a great dog.....Thank You.

Canadian Champion

TR Sparklin' Spirit Abigail

This fabulous girl is the first dal we have raised from our program, sired by Kale and out of Ali.  We are so happy she obtained her championship title March 2013.  Our thanks to her handlers, our daughter, Julia and our dear friend Christina Goodman.

Spots On The Top Alison,  RN

Our son's faithful companion, Ali, completed her Rally Novice Obedience title with ease.  Ali qualified each and every time she entered the ring, therefore finishing her Rally Novice Title quickly in just 3 shows. They then went on to compete in Junior Obedience and placed 1st in their class.

TR Mister Tuff Bruiser, RN, CGN

TR Mister Kale of Muddy Pawz

x

Spots On The Top Alison

TR Sparklin' Millie Angel, RN, CGN

Am.CH. Guardian Brave  And Noble

x

CH. TR Sparklin' Spirit Abigail

This extraordinary boy is loving owned by Hailey and Tim and resides in Ontario.  We are so proud of  Bruiser and Hailey as they obtained their Rally Novice Championship and were certified for their Canine Good Neighbour.  Bruiser is now working on his Rally Advanced title.  Good luck!!!!!!!

This sweet girl is the second dal loving owned by Hailey and Tim and resides in Ontario.  Not to be outdone by her "uncle" Bruiser (above), Millie also quickly completed her Rally Novice Championship and her Canine Good Neighbour certificate. Hailey tells us that the next goal is a conformation championship title.  We are rootin' for you both!

Below pictured is Millie on left and Bruiser on right showing off their CGN certificates.

This wonderful youngster is lovingly owned by Dan and Leslie in Victoria, BC.  Leslie was very proud to announce that Yahtzee acheived her Trick Dog Championship Title before 2 years of age and is well on her way to her Agility and Rally titles.

We are cheering her on....Go Yahtzee !!!!!!

Below is a video of Yahtzee performing the tricks needed to earn her championship.

TR Gem Of A Roll For Yahtzee, TDCh, TN-N, NJC, NAC, ADC, SGDC

Am.CH. Guardian Brave  And Noble

x

CH. TR Sparklin' Spirit Abigail

TR My Best Kept Secret

TR Mister Kale Of Muddy  Pawz

x

TR Blue Diamond Krystal

This lovely girl was born out of our second litter and resides in Ontario with her mom, Natalie.  Natalie was very happy to announce Secret's film debut alongside actor William Baldwin. The movie was released February 2013 and is called "Be My Valentine".

We were elated to see one of our babies up on the big screen.  Congrats Secret and Natalie !!

TR Mister Kale Of Muddy  Pawz

And

TR Blue Diamond Krystal

In 2008 we were very proud to be part of an important project. The Edmonton Firefighters produce an annual calendar with all proceeds going to the Burn Centre. Our foundation dals, Kale and Krystal were asked to participate. Here are some of our favourite pics from that day. All photos are copy-writed to Christine Rankel Photography.

UPDATE.......

We were so excited to get this update from Leslie and Yahtzee:

"I have been holding out on sending you a picture of our amazing weekend back in October until I received Yahtzee's plaque. She qualified in 9 out of 11 runs, earned 3 agility titles and the Novice High in Trial award. I have never had such a weekend in the 16 years that I have been competing in agility! She got 5 Q's on the Saturday for a "Yahtzee" (5 of a kind...) and was just one Q short of a double Yahtzee for the weekend. She has lived up to her name! She has done so very well in the 6 months that she has been competing, I look forward to next year.

She is now TR Gem of a Roll for Yahtzee, TDCh, TN-N, NJC, NAC   that's lots of letters! "

Taylor Ranch Kennels is so proud of Yahtzee's and Leslie's accomplishments.  Congratulations, job well done !!!!!

NEW UPDATE.......

We just received this new update from Leslie and Yahtzee, and wanted to share.

"We have had a great start to the 2014 trialing year. Our 1st trial of the year was last weekend where Yahtzee earned her first 2 AAC (Agility Association of Canada) titles. ADC (Agility Dog of Canada) followed by SGDC (Starters Games Dog of Canada)...More letters to add to her name!"

Congrats to them both, and we look forward to additional updates in 2014.